7

The Producer

Kiara Pipino
In a theatre production, the producer is the one person that "makes it happen" financially. Depending on the kind of production, the number of producers and the roles they take on may differ, but generally speaking, they are in charge of finding and providing the necessary funds to put the show on its feet for a run.
Historically, the producer has always been in charge of the economic side of a production. In Ancient Greece, the polis (city) of Athens was responsible for funding the shows included in the theatre festivals. The playwrights also had a part in it, being responsible for raising money and, at times, acting in their productions. In Rome, people in occupations resembling theatre managers took care of the logistics. In the Middle Ages and up to the Renaissance, theatre troupes were usually formed by families and every company member played a role in the management of the performances. In the Renaissance, theatre companies became more structured, with a clearer distinction between the function of each member. Successful theatre companies would aim to own their own theatre, so they could produce their plays without worrying about finding a venue and paying rent. This was, for example, Shakespeare's case, as his theatre company, the King's Men, owned the Globe theatre on the left bank of the river Thames in London – in a location close to where the new Globe theatre stands today. Shakespeare is well known as a playwright, but he also managed his company and functioned as the producer.
In modern times, the producer bridges the artistic side of the theatre business with the "outside" world: the world of finance, grants, donors, and investors, with the goal of raising the funds necessary to produce a show. The process of producing a show usually starts with the creatives, such as the playwright or the director, who approach the producer with their idea or project. If the producer likes it and thinks it is feasible, the wheels start to turn, and people start getting hired. It is the producer who hires (and fires) everyone involved in a production, and the producer is also the one who deals with stipends. This allows the artists to avoid discussions of money as they create, rehearse, and work, giving them the utmost creative freedom. The actors or their agents, for example, won't have to negotiate their salaries with the director of the show and this helps keep the integrity of the artistic process in place.
Producing in Commercial Theatre
First, let's analyze commercial theatre, and the producer's role in it. We consider "commercial theatre" to be any theatre production that is conceived for larger audiences and intended to generate a profit. Broadway shows in NYC are a good example. As of 2022, there are forty-one Broadway theatres in New York, and a lot of them are owned by a few producing organizations, such as the Schubert Brothers (owning 17 theatres), The Nederlander Organization (owning 9 theatres on Broadway, 3 in London and 5 in Chicago) and the Jujamcyn Organization (owning 5 theatres on Broadway). Shows such as Wicked, The Lion King, or Hamilton, have been running on Broadway for several years now, always playing to full houses. These shows function on a larger scale in almost all departments and therefore require a much larger budget. Commercial theatre producers face the challenge of finding investors and raising enough money to sustain the production. The producers need to promote the show as an investment, like stocks and bonds, and need to be able to provide potential investors with as much data as possible about the potential outcome and profit of the project. As mentioned, Broadway shows cost a lot of money, and even when the show is up and running to full houses, it usually takes time before they break even, let alone to generate a profit. It could take years before the investment pays off. For investors, that is quite risky! Oftentimes, if a show isn't on the right earning trajectory, producers will shut it down to minimize the losses. Broadway is full of examples of shows that closed almost overnight, leaving actors and crews alike out of a job with little to no warning.
Once the producer has raised the money, he needs to budget all of the expenses, including but not limited to: the cost of the rights for the production, the costs of the material to build the set and costumes, the cost of the publicity, the cost of any technical equipment needed (projectors, motorized elements, lights), the cost of the rehearsal space, and the rental cost of the theatre, plus all the stipends for everyone involved – from actors, to designers, the director, the stagehands, those who work the front of house, among others.
The producer is an active participant in the artistic process as well, although it is usually up to the artists, such as the playwright and the director, to finalize the artistic choices. At times, producers would contribute to the casting, for example, to secure famous actors who would provide greater visibility, and potentially a greater economic return for the show.
Because there is so much at stake on Broadway, producers will often look for shows that were successful in similar markets, such as the London West End. Several shows that have opened and successfully ran in London for some time later moved to Broadway. Examples include Cats, Les Miserables, The Phantom of the Opera, Harry Potter and the Cursed Child, Miss Saigon, Spamalot, Matilda, Six… the list could go on. It is also common for Broadway producers to be more attracted to producing musicals rather than straight plays, because although the costs of a musical are higher, the economical reward might be higher as well.
Another "trick" producers use to test the success of a show prior to opening on Broadway is to do a "test run" in a city other than New York, such as Boston or Chicago, to gauge the reaction of audiences and critics. Kinky Boots, for example, first opened in Chicago and only later moved to Broadway. Moulin Rouge premiered in Boston, and then moved to New York.
In the past few years, another common feature for Broadway productions has been to adapt successful movies into theatre pieces. Examples include Mrs. Doubtfire, Tootsie, Frozen, Pretty Women, Groundhog Day, and Catch Me if You Can.
For Off-Broadway productions, producers will need more contained budgets due to the different scale of the theatre itself and the nature of the plays that are being produced; but nonetheless, the itemized costs are the same as that of a Broadway show. At times, shows are also tested Off Broadway prior to a Broadway transfer. Again, this is a way to figure out the potential success of the show before committing to a much more expensive Broadway run. Very successful shows originated that way, including Hamilton, The Band's Visit, and Sing Street.
It is important to remind you what we mean by Broadway versus Off-Broadway theatre. The distinction has nothing to do with the quality of the productions that you might see in those theatres, but rather on the number of seats available in each venue. A Broadway theatre is the biggest theatre in the city, having more than 500 seats in the audience. An Off-Broadway theatre seats between 100 and 500 people, and finally an Off-off Broadway theatre has less than 100 seats. In NYC, Broadway, Off-Broadway, and Off-off Broadway theatres are scattered all over Manhattan and Brooklyn. Non-commercial theatre – or nonprofit — operates in a slightly different way due to the different scope of their mission. Regional Theatres all around the U.S. are a perfect example of this. They usually have a board, which nominates an Artistic Director and a Managing Director, who are then in charge of operating the theatre from the artistic and economic point of view. The Artistic Director oversees the selection of shows to be produced in the entire seasons and at times he/she/they also directs some of them. The Managing Director, or Executive Director, keeps the books in order, reaches out to donors, applies for funds, and writes grants. Both the Artistic and Managing Director work closely together to make sure that the production is artistically fulfilling and economically safe.
There are over 1400 Regional Theatres in the U.S. All of them have their own season and produce their shows in their own spaces. Some theatres have multiple stages, thus allowing different kinds of productions to run at the same time. Some of them are more interested in new works, such as the Berkley Repertory Theatre and La Jolla Playhouse. Regional Theatres will hire professional theatre artists and actors, along with non-equity actors. Regional Theatres could be part of LORT (League of Resident Theatres), which is an Association that promotes and helps theatres negotiate with the actor's union – Actors' Equity – while also providing resources when it comes to funding, management, and legal matters. Currently, LORT includes 75 theatres in the U.S.
Producing in Nonprofit & Amateur Theatre
Differently from commercial theatre, nonprofit theatres are not bound to make a profit, but they still need to make sure that their productions are economically viable and could break even. Nonprofit theatres can also function as incubators for future Broadway productions, meaning they could be the first ones to workshop and produce what would later become a larger show. One of the most famous Broadway incubators is American Repertory Theatre (ART), based in Boston and currently directed by Diane Paulus. Shows such as Pippin, Waitress, and Once originated there and then moved to Broadway.
Finally, a few words need to be spent on amateur theatre, as it plays such a vital part in communities all around the U.S. Amateur theatre includes Community theatres and college/university theatre. What defines amateur theatre is that the people involved in the productions are not necessarily theatre professionals. In a Community theatre, for example, most people are volunteers with a passion for theatre, who hold other jobs. In academia, you might have a mixture of professionals and amateurs, since the faculty involved in the production usually has a professional theatre background, while the bulk of the artists, such as the actors and the crew, are formed by students. They might become professionals in the future, but they are still working on it! In academia, the producer is usually the Theatre Department, which is, at times, helped by a student organization. Yet again, amateur theatre has its own producers as well because even though there might not be professionals involved and who are paid a stipend, there are still costs to cover for the rights, the materials, and the publicity.
National Endowment for the Arts
The National Endowment for the Arts (NEA) is a public agency of the federal government that was created in 1965, with the goal of promoting and financially supporting excellence in the arts and in arts education. Non-profit organizations, including theatres, can apply to get financial support for specific projects, but unfortunately, NEA has limited funds and it cannot alone guarantee the complete economic feasibility of a project.
Awards & Accolades
The Tony Awards
The Antoinette Perry Award for Excellence in Broadway Theatre – commonly known as the Tony Award— is meant to recognize the excellence in Broadway productions. It is promoted by the Broadway League and the American Theatre Wing. It is the equivalent for theatre of the Oscars – The Academy Award for film. The award started in 1947 and since then it has become the most prestigious recognition for theatre artists working on Broadway in all the different aspects of a theatre production.
Currently the Tony Award features 26 categories, and awards both straight plays and musicals. The categories include:
Best Actor (in a Play or Musical),
Best Director (of a Play or Musical),
Best Original Musical,
Best Scenic Design (of a Play or Musical),
Best Choreography,
Best Play,
Best Revival of a Play (and of a Musical),
Best Costume Design (of a Play or Musical).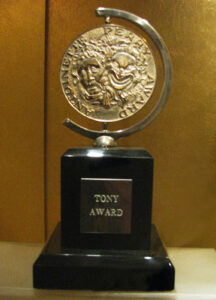 The award ceremony is a huge event which usually takes place in June in NYC and is televised. Famous actors who received the Tony Awards are: Cynthia Erivo (for The Color Purple, in 2016), Renee Goldsberry (for Hamilton), Lin Manuel Miranda (for the Book of Hamilton), Denzel Washington (for Fences), Viola Davis (for Fences), Neil Patrick Harris (for Hedwig and the Angry Inch), Audra MacDonald (for Lady Day), Andrew Garfield (for Angels in America), Katrina Lenk (for The Band's Visit), Nathan Lane (for Angels in America), Billy Porter (for Kinky Boots), James Corden (for One Man, Two Guvnors) Hugh Jackman (for The Boy from Oz), Jefferson Mays (for I am My Own Wife).
As of 2022, the show that has won the most Tony Awards is the 2001 production of the musical The Producers – winning 12 Tony Awards. It is followed by the 2016 musical Hamilton, with 11 wins. The 2022 Tony Awards for Best Musical was awarded to A Strange Loop, while the Tony for Best Play was awarded to The Lehman Trilogy. You can find out more about the awards, categories, and winners on the Tony Awards website.
Off-Broadway Awards
Off-Broadway productions are recognized by their own awards, such as the Obie Award (originated in 1956), the Drama Desk Award (originated in 1955) and the Lucille Lortel Award (originated in 1986). These awards are just as prestigious as the Tony Awards, and feature just about the same categories. Since 1976, West End Theatre in London is recognized by Society of London's Theatre Laurence Olivier Awards.
A Conversation with Broadway Producer Hal Luftig
Hal Luftig
2
is a SUNY Oneonta psychology and theatre graduate who went on to graduate school at Columbia University where he completed his MFA in Arts Management.
He established himself as a producer first Off-Broadway and then on Broadway. His productions include Tony Award Winner
Thoroughly Modern Milly
and
Kinky Boots
,
American Utopia
,
Plaza Suite, The Normal Heart
, and revivals such as
The King and I
and
Annie Get Your Gun
.
Kiara Pipino:
What do you do as a producer?
Hal Luftig:
I get that question a lot and the simplest way to answer it is to say: imagine the whole production as a sports team. The producer is the owner of the team, meaning everything flows up to me as the owner. Then as the owner, I hire different players. For football, I'd hire a manager, and for a production, that would be the director. Then, the manager is responsible for recruiting the team players: the quarterback, the end back… Those would be our actors.
Shifting to theatrical terms, I see my role as the producer as being able to support the artists' vision. Usually, they come to me with an idea for a musical or a play, or it might be something that already exists or something that I've seen someplace. If I'm interested, if it ignites my imagination, I will meet with the director or the writers and try and get an understanding of what it is they're trying to say and how they're trying to say it. And then just support that vision to its final fruition. There are many tools available to the producer to do that, like readings or workshops, for example, and doing whatever you have to do to develop the show. Throughout the whole journey, one of the producer's main responsibilities is raising the money for the show.
So, it's really like I am a team owner, who's responsible for just about everything. But then, personally, I don't micromanage. I hire people to do their job and let them do their job. I don't stand over the writer's shoulder and go, "No, I don't like that." I support what they believe in and hopefully what comes out the other side is a wonderful piece of theatre. So, that's basically what I do.
Kiara Pipino:
And when you mentioned supporting the artists, writers, and directors, do you like to chip in when it comes to artistic vision or are you totally hands-off?
Hal Luftig:
I do have an opinion and it usually comes about after I've seen the show on its feet, rather than when I read it as a script. One of the reasons I love theatre is because a lot of the storytelling actually happens through the actors, the music, the scenery. So, a lot of what happens in theatre is not necessarily on the page. You can convey a lot of nuance through the different tools we have as human beings and this is why I do theatre and not film: in film you can create a lot of what I just talked about through camera angles, through editing, through underscoring. We don't have those tools in live theatre.
We can't edit afterwards. We have to do it all with the tools that theatre has, such as lighting or scenery, and with actors. So, I usually wait until I can see the show on its feet in some way, shape, or form, to have an opinion. And then I find what works best for me and the artists that I work with is just to ask questions. I don't try and fix the writing or tell them what's wrong with it— they're the artist. But I do ask questions like, "Okay, in this scene, what is supposed to be happening?" And I ask them to explain it and I'll say, "Well, okay, just consider this: as an audience member, I don't see that."
By asking questions of the artists, we start getting the answers and we start working on clarity, on specificity. And the same thing happens with a song, if it's a musical. "Okay, what is this song trying to do? Is it moving the character forward?" And if it's just a song that's there because someone felt like we should just stop the action and have a song… well, that never really works because the action just comes to a screeching halt.
Kiara Pipino:
Is the process and your approach as a producer the same when working on big Broadway shows and on smaller productions, like Off-Broadway?
Hal Luftig:
The bigger the show, the bigger the scale, obviously the more moving parts there are, the more complicated it can get. The work is more intense because you are asking those questions to so many more departments. In a big show, at times you get tempted to use some "theatre mumbo jumbo" just to wow the audience, but how is that telling the story? There is no reason to do it if it is just because it has a pretty effect. So usually, in a bigger show, I tend to have more questions for the director and the designers. In a smaller Off-Broadway or even a smaller Broadway production I find it a little easier because as the show is more contained, your focus is more contained as well.
Yet, specificity is always on my radar, regardless how big or small show is. And I love it when I meet a director who thinks in terms of specificity. For example, I was at a rehearsal once and they were doing a scene. The actor picked up a cup of coffee and the director asked the actor why she had picked that specific cup (there were several). The actor had clearly made a choice based on… just about anything, but what needed to be decided is why the character – not the actor- would pick that specific cup.
And I know it sounds very minute, but I was fascinated when I saw that. The process of making that actor make a choice as the character I thought it was genius. It ultimately shaped the actor's whole performance in the role because it added specificity to it. I think that's true storytelling.
Kiara Pipino:
Do you attend rehearsals as well?
Hal Luftig:
Oh yeah. It's my favorite thing about the whole thing. I often say that my favorite part of producing is when we're all in the rehearsal room together…. and then the audience shows up and they ruin everything. That's my saying. If we could just stay in the rehearsal room and never have to perform this for an audience, it would be great. I'm joking, of course, but the thrill of seeing the show grow in rehearsals… is so exciting.
Kiara Pipino:
Is that common for producers to attend rehearsals?
Hal Luftig:
I would say a producer who doesn't attend rehearsals is not really doing a good job. You should want to be interested in watching your show as it is being created. I do it, and most producers, I think, should do it. If for nothing else, just to see that what they're producing is happening in the way that it should happen. I'd be very suspect of a producer who showed up only on opening night.
There are some producers who are the "decision making person" for everything and therefore they go to rehearsals a lot because of that. I am not one of those. The reason I go to rehearsals, and to technical rehearsals, is because I love theatre so much and I love watching that thing that we call "magic" being made. And it is magic. And if it's done right, you are transported to a different place, a different time then we're in now for two hours or so.
Kiara Pipino:
You mentioned asking questions; if you see something that isn't working for you as an audience member, have you ever gotten to a point in rehearsal where you see that something isn't functioning the way it should and it feels like you're not getting the right response from the creative team? Didn't you feel like you had to jump in and do it?
Hal Luftig:
Sure. Of course. But I find that in those instances you may win the battle, but you lose the war. I can give you an example. When we were creating Kinky Boots, in an earlier draft there was a scene in which the main character, Lola, would be doing her show and there was this magic trick. She would have someone in one of those boxes you put swords in, and then you pull all the swords out and the person jumps out and they're not harmed. I asked the director, "Why are we doing that?" And he had a really good answer. He said, "Because every time a knife went into the box, in the scene happening contemporarily right above it and featuring the manager of the shoe factory, someone was getting fired." So, each time Lola was singing and putting a knife in, somebody was losing their job. That made sense, except it was having the opposite effect. Nobody was paying attention to what was going on in the scene on top, because they were so fascinated by the world's oldest magic trick.
When I pointed that out, the director said to me: " You know what the problem is? We have the wrong magic box. We now have something that looks like a doghouse, while we need it to be glittery and red." I had to make a quick decision, whether or not to put my foot down and say, "No, absolutely not. You're not getting another box", but we would've just come to a standstill. If I didn't give it to him, the director might have spent more time focusing on "See if I only had that box, the whole show would work" than on the storytelling itself.
So, it was not an inexpensive piece of scenery to replace, but replace it we did. And we gave the director what he wanted. But then, the results were no different. People were not paying attention to what was going on upstairs. And he, because I had given him the box that he wanted and now he couldn't argue for why it wasn't working, actually came up with his own answer and he killed the magic box.
I never know where it went, the magic box, by the way. One day it was just gone. I still want to know where that thing… It was big! Anyway, Kinky Boots became a big hit.
See? That is what I mean when I say that my job is to support the artist. I could have said, "Absolutely not. I'm the producer and you just do bla bla bla…" But we would've hit a creative stand still. And you never want that, because nobody wins. But if you can find a way out of that hurdle, it usually gets figured out. And we all were happy.
Kiara Pipino:
When you decide on a project, you mentioned meeting with the artist and the director. Do you have a group of artists that you rely on? Ongoing collaborations?
Hal Luftig:
When you've been in the business as long as I have, there's a sphere of people that you've worked with already before in some capacity. But I'm always open to the new voice, the new writer, the new director, choreographer. And especially now that we're highlighting the importance of diversity, equity and inclusion, I really believe in that. You need to give people opportunity.
I do have ongoing relationships with various artists. I have done three shows with director Jerry Mitchell, for example, and moving on to our fourth one. I am having a new musical written that is going to be directed by a someone who choreographed on one of my very first shows… but there's always new people coming into the business. I hope to be encouraging newcomers into the business, and support them. I certainly don't turn anyone away because I've never heard of them or I don't know their work. I've been quite successful with that, because I had so many talented new people I have collaborated with that came up with great ideas.
Kiara Pipino:
As a producer, can you immediately recognize the potential for success when you come across an idea, or an artist?
Hal Luftig:
You have an opinion of whether you think something is going to be a success or not.
At some point, producing does come down to sheer economics, and that's not a dirty word. If you are doing commercial theatre, you have to make sense of the economic risk/reward balance.
You're in a theatre and it has only so many seats, and you can only do eight performances a week. And you can only charge so much for a ticket. And when you do that math, you find out what is the maximum you can earn in that theatre. If it's a big show, you have so many different scenes and things and you need to factor the cost to run the show for every week in that theatre.
If one side – the cost of running the show- is much greater than the other one -the money you can make- or it's really close, you just have to say no. Some get it, some don't. Part of my responsibility as a commercial producer is to the investors. I usually at some point have that conversation with the creative team because there's no secret to that part of the business. It's called show business. It's not a dirty word.
Also, in the span of my career, that part, unfortunately, has gotten much more complicated. The costs of working on Broadway have escalated. That's also one of the reasons why we lose theatre going audiences. Realistically, how many people can pay $600, $700 a ticket to see a show? Not many.
When I was a kid, we were able to go to the theatre for $3. It was the rear mezzanine, but it didn't matter. I got to see everything because my parents supported taking their children to the theatre. And it's hard to do now.
When people talk to me about the expensiveness of tickets, it's true. They're expensive for me too. I don't get a discount because I'm a producer. There are ways to have access to cheaper tickets, but you have to know how to navigate that: lotteries, TKTS, TDF… you have to do a little research.
As far as I am concerned, I love to travel, I love good food… but I would give a lot of that up to go to the theatre. It is a vacation for me, a two-and-a-half-hour vacation, especially when it's not my show. When it's my show, it's not so much fun, because I'm always looking for stuff.
Kiara Pipino:
The economic side of the business can be difficult to understand to non theatre people. At times, it is hard to believe that shows that charge so much for a ticket might actually struggling to break even. Can you speak a little about that?
Hal Luftig:
I am going to give you a very condensed version of how you come up with the number of what it will cost to produce a show, or, as we say, what is the needed capitalization. I call it Hal's theatre 101.
That number consists of the cost of rehearsals, of building sets and costumes, and then getting all of that stuff into the theatre, and having enough money to advertise, and what we call a reserve… I list all the different things that go into how much is needed to get the show up and running.
And then on the other side, I break down what weekly expenses you would have: salaries, theatre rent etc. A lot of shows now move things up and down and there's a machinery that does that. And so you have to rent it. You have a huge staff of people backstage that the audience never sees when watching a show, and those include the costume workers, the hair workers, the set workers, the people who repair the set, the advertisement agency who comes up with all of the posters and promotion material and then you have to pay to get that on social media or on newspapers and magazines.
A lot of times the confusion is people don't see all of that. What they see is just the people on stage and the set and the costumes. And they have no idea what that costs. Sometimes I have to go through this breakdown even with investors because when they look at the cost to produce the show, and at what their investment would be, and their first question is, "How will I make my money back, let alone profit?" As a producer, you have to be able to answer that, there has to be a logical path towards making their money back or profit. Or why would they invest?
They always say that investing on Broadway is riskier. But look at what's happening with the stock market these days? Yet, it has to make fiscal sense to both the producer and the investor and to everybody else involved. I'm working on a show right now called Here Lies Love, by David Byrne and it is a challenging show to produce. It's a heavily danced piece, so getting it into a Broadway theatre means you have to take out seats and possibly alter walls. Right there, you suddenly reduce your earning capacity, while you're still paying all of the costs. Some people have said to me that the show is simply too expensive to produce, but I have always thought there could be a way. The first goal was to find a theatre, and you can imagine, a theatre owner's is not thrilled to have his theatre being ripped of the seats, and having walls pulled out….but I have faith we'll make it happen!
Kiara Pipino:
I'm assuming that the COVID pandemic has actually increased the costs for producers, right?
Hal Luftig:
Oh yes. We have to have COVID safety officers, and we have to provide testing. We make sure every single person is safe. Of course, this has increased the cost of producing a show now, even just for personnel.
Kiara Pipino:
And people seem not to feel comfortable enough yet to go to the theatre like they used to, so ticket sales aren't at the pre-pandemic levels. And yet you have more costs to run the shows.
Hal Luftig:
Right, but I feel people are starting to feel comfortable again, slowly. And the way we're going to do that is to make them feel safe.
Kiara Pipino:
How did you get into producing?
Hal Luftig:
Since I was nine years old, I always knew I wanted to be a producer. I know this is strange!
When I was a young kid, as a family we went to my very first show. It was the original production of Fiddler on the Roof, I was eight years old. These were the days when you got dressed up to go to the theatre so my brothers and I, we had our little sports jacket and our bow tie. And I remember walking into the theatre and my mom saying to me very specifically: "Now this isn't a movie and it's not a TV. These are live actors that you are going to see on stage. And if you make noise, they're going to hear you." Which was her way of saying be quiet. It turns out, she had nothing to worry about, because the moment that curtain went up, I was mesmerized. I don't even think I breathed for two and a half hours. When we walked out of the theatre, I remember holding her hand and her saying, "I have never seen you sit so still and so quietly. I think I'm going to have to take you to the theatre once a week." And I said, "Well, that works for me."
There came a point when I discovered that a lot of things happen on a stage: there's actors, musicians in the pit, the scenery is moving. I didn't know what it was called, but I knew I wanted to be the person who was in charge of all of that happening. As I was growing up, I would look at the ads of the shows and I saw certain names, like David Merrick and Manny Azenberg… great producers that I have gotten to know later in life. And that moment was incredible, it was like meeting your idols, your mentors.
I always knew what I wanted to do just that, produce. My parents were very supportive, but they wanted me to get a "real job" and a good education, so I went to SUNY Oneonta and I was a psychology and theatre major. When I graduated, I got a job on Long Island at a paper called Newsday. I was an assistant copy editor. I hated it and I hated it because it wasn't what I wanted to do.
Then I found out that four times a year, the American Theatre Wing, which is partly responsible for the Tony Award, does "Working in the Theatre" seminars where they have a panel and they pick one topic—directing, producing, writing. At one of those seminars, I met Isabelle Stevenson, who told me that Columbia University had a program for theatre management…. I applied and shockingly I got in.
After that, it was just determination. Like for everything else: If you want something bad enough, you work hard for it. And that's what I did. At Columbia, you had to do a lot of internships, fellowships. And I was not above getting coffees or lunches for people, but I learned a lot! Every time I had to file documents, I was able to read them first. I read contracts, deals, theatre licenses…. That's how you learn.
They must have thought I was the slowest person in the world because it would take me two hours to make copies or file stuff! But I think they knew what I was doing and they appreciated that eagerness. And to this day, I actually pinch myself because I can't believe I got to do what I've always dreamed about doing. There's nothing else that I would want to do. Somebody once asked me that question, "What would you do if you weren't a producer?" And I really couldn't answer it. I really couldn't answer it because I don't know. This is all I ever wanted to do.
I can go into the details of how I became a producer, of course. I got out of school, got a job as an assistant treasurer for an Off-Broadway theatre. Then I was promoted to actually running a set of theatres for this company. I was an associate producer, raising a little bit of money, and the deal was I would raise some money, but they would have to allow me to sit in on meetings. In that way I was able to observe and learn and listen.
And I do the same now with my two associates. They come to every single meeting that I'm at and listen to every phone call that I am having. That's the way they're going to learn the business and that also helps for a smooth running of the office. They can't know what I need them to do unless they hear it themselves. And they can't know why I need them to do it.
Kiara Pipino:
Last question. Can you think of an anecdote or something about one of your productions that came unexpected to you, a mistake you made and that you were able to turn around?
Hal Luftig:
When my first show as the lead producer, Thoroughly Modern Millie, opened on Broadway in 2002, Ben Brantley of the New York Times hated it1.
When today people complain with me about some bad reviews they have got, I just tell them to go and look up Ben Brantley's review of that show. Just as example, in one of the first paragraphs he wrote: "You'll leave either grinning like an idiot or with a migraine the size of Alaska." Meaning: if you like this show, you're stupid. And if you have any intelligence, it's likely you'll have a big headache. He went on from there. He disliked everything.
The day after the show opened all the producers and co-producers met at the ad agency to take a look at the reviews and build the quotes from them. I walked into that room and found people crying because of that review. It broke my heart. So, I asked them if the show they had seen the night before resembled the show Brantely was writing about. "No." Then I said, "So, stop it. It's one person's review. What we have to do is to get audiences to see it, because when they do, they are going to love it." And that's what we actually did and that is what happened. Much to Mr. Brantley's chagrin, we received a ton of Tony nominations [11] and we won a bunch [6] of them, including Best Musical. The show ran for over two years on Broadway and is still done in schools or regional theatres to this very day.
We turned it around, and got passed the bad review – remember, at the time, reviews from the New York Times carried a lot of weight!
Kiara Pipino:
Theatre pranks. Did it even happen to you?
Hal Luftig:
Yes. I produced this show called Death and the Maiden, by Ariel Dorfman. Mike Nichols directed it, and starred Glenn Close, Gene Hackman, and Richard Dreyfuss. Three were big stars who really hadn't come back to Broadway in a long time. We sold out almost instantly. And one day I got a call from the stage manager saying all the producers – it was me, and two others—needed to be at that evening's performance. We were not told why, but we were told we needed to be there.
We thought, "uh oh," somebody has put in an "improvement," maybe Glenn Close has changed the scene or something weird like that. That night, when the house lights went down, the announcement was the following: "Ladies and gentlemen at this performance, Miss Close, Mr. Dreyfuss, and Mr. Hackman will be unable to appear." Madness ensued. People stood up and ran out to the box office, which by now was closing because it was 8pm. The box office people also didn't know anything about this. We were all in shock! Then after probably a minute or so, which to me felt like five hours, the same voice came back over the microphone and said, "Ladies and gentlemen: April Fools." I didn't even think it was April 1st. But at that point, the audience wouldn't believe it was a joke. I tried to convince people: nothing!
We had to run backstage and ask Glenn Close to make an announcement herself and get everyone back in their seats! And the best part is that at intermission Glenn Close was furious. She said, "I can't play to this audience. They laugh at everything I say!" And I'm like, "You did this to yourself!"
That is one night I will never forget.
KEY WORDS
Artistic Director
Broadway Theatre
College Theatre
Community Theatre
Hal Luftig
Lucille Lortel Awards
Managing Director
National Endowment for the Arts
Obie Awards
Off-Broadway Theatre
Off-off Broadway Theatre
Olivier Award
Regional Theatre
Tony Awards
West End